150Mbps Wireless ADSL2/2+ Modem Router
The Edimax AR-7167WnA/B is a high performance router that supports the ADSL2+ and 802.11n standards. Its advanced MIMO technology provides users up to 6 times better wireless data transmission rates (up to 150Mbps) and 3 times better signal coverage when compared to standard 802.11g/b routers. With superb reliability and cost-effectiveness, the Edimax AR-7167WnA/B is the perfect ADSL modem router for the home and small business.
Built-in ADSL2/2+ Modem & lP Sharing
The Edimax AR-7167WnA/B is compatible with ADSL, ADSL2, and ADSL2+ Internet services. It can allow for network speeds of up to 24Mbps downstream and 1Mbps upstream. Its IP sharing capability allows users to share a single ADSL connection with up to 253 wired or wireless client devices.
Wi-Fi Protected Setup (WPS)
The Edimax AR-7167WnA/B features a convenient WPS button. Users can set up an encrypted wireless connection simply by pressing the WPS button on this router and the client device. This one-click WPS button helps users set up a secure wireless network in less than a minute.
Multi-Language Setup Wizard*
An easy-to-use multi-language setup wizard is provided in the bundled CD. The user can select a preferred language and it will set up the Internet connection, Wi-Fi network, and network security in a few simple steps.
Virtual Server & DMZ
The Edimax AR-7167WnA/B is built with virtual server and DMZ functionality for applications that require open ports, such as online games, VoIP phones, and web servers.
* The EZmax Setup Wizard only supports Edimax wireless routers.
HARDWARE INTERFACE
MANAGEMENT
Functions

1 x RJ-11 WAN port
4 x RJ-45 Fast Ethernet LAN ports
Wi-Fi On/Off switch
LED indicators: power, Wi-Fi, ADSL, LNK/ACT
1 x 3dBi antenna
WPS/Reset button

Web management
Access control list
Firmware upgrade
Time zone
Diagnostics

Virtual server and DMZ
802.1q VLAN
DHCP server/client and DHCP relay
Dynamic DNS
Universal Plug and Play (UPnP)
IGMP, IGMP snooping
Alias IP subnet
VPN passthrough (IPSec/PPTP)

Supports ADSL standard G.992.1 (G.dmt), G.992.2 (G.lite), G.992.3 (ADSL2), G.992.5 (ADSL2+) for Annex A, L
CBR, UBR, VBR-rt, and VBR-nrt
Supports up to 8 PVCs

Multi-language EZmax Setup Wizard

4 MB NOR Flash
16 MB SDRAM

NAT/NAPT IP sharing
64/128-bit WEP encryption and WPA-PSK, WPA2-PSK security
SPI firewall
IP/MAC/URL/Application filtering
Wireless MAC filtering

2400 — 2484MHz
802.11b: 17±1.5dBm
802.11g: 14±1.5dBm
802.11n/20MHz: 13±1.5dBm
802.11n/40MHz: 13±1.5dBm

10-90%
(Non-condensing)
10-40 Degrees Celsius

CERTIFICATIONS

179 (W) x 133 (D) x 25 (H) mm
NETWORK SETUP DIAGRAM AND RELATED PRODUCTS
An example of how the AR-7167WnA/B can be set up:
Connect the AR-7167WnA/B to your ADSL service via phone cable (RJ-11)
Connect a computer to the LAN port and set up the Internet connection with the multi-language setup wizard
You can also share your printer with devices in the network using an Edimax print server
Overview
What This Product Does
TD-W8951ND 150Mbps Wireless N ADSL2+ Modem Router is an All-in-One device, which is designed to provide end-users with a one-stop solution to acquiring and sharing high speed Internet access over a wired/wireless network. With the Easy Setup Assistant bundled in the CD, SPI and NAT firewall, QoS engine and other advanced features, you can easily setup a protected wireless network and enjoy the pleasant of Internet surfing, file sharing, VoIP, audio and Video streaming.
One-Stop Solution
As a 3-in-1 device, the TD-W8951ND combines the functions of a high speed DSL modem, a 4-Port 10/100Mbps NAT router and a wireless N access point. Using a DSL enabled telephone line the TD-W8951ND could establish a high-speed ADSL2+ Internet connection. Once set up, the device's wired/wireless functions can be used to share media between devices, browse the Internet, talk on an IP phone, or even stream HD video from anywhere in your entire home or even the yard. Save time and money using one device instead of multiple devices that take longer to set up and occupy more cluttered space.
High-Speed Internet Access and Wireless Performance
Unlike a dial-up Internet service, a DSL Internet connection is always on so that users need not dial up or wait to access the web. Supporting the latest ADSL standards, the TD-W8951ND provides higher performance (up to 24Mbps downstream and 3.5Mbps upstream) and longer reach from users' local Internet Service Provider (ISP).
Complies with IEEE 802.11n standards, TD-W8951ND can establish a wireless network and provide better wireless performance, transmission rates, stability and coverage. You can get up to 9X the speed and 4X the range of conventional 11g product and share your high-speed DSL Internet connection, photos, music, files, and even the heavy bandwidth consuming applications like wireless HD video streaming which can not be accommodated by 11g products, from anywhere in their entire homes or even in their backyards!
>Port VLAN binds specific LAN ports and PVCs for differential services like IPTV. The TD-W8951ND's built-in QoS engine provides various QoS policies that help prioritize Internet traffic to enable smooth IPTV streaming and lag-free online gaming. Thus users can experience the benefits of a smooth network connection without worrying about traffic congestion. Combined with IGMP multicast and IGMP snooping features the TD-W8951ND makes an ideal solution for multimedia applications.
Advanced Network Security And Flexible Management
The TD-W8951ND utilizes NAT and SPI (stateful packet inspection) firewalls which inspect the contents of incoming packets before they are allowed in, preventing potential attacks from across the Internet. For added convenience, it supports access control based on MAC addresses, IP addresses, domain names or applications such as MSN or Yahoo Messenger, so that parents and network administrators can establish restricted access policies for children or staff. Aside from web configuration, the TD-W8951ND also provides TR-069 and SNMP, which automatically update the device's firmware and other settings when they become available from users' ISP. All of these features help users to enhance their network's security and make network management more flexible.
Push the "WPS" button or enter the router's PIN Code in the wireless client, and it will automatically establish a WPA secure connection.
Easy Setup
Either using the optimized user interface and setup wizardor the CD(included) setup wizard willallow youto get 'online' quickly and easily.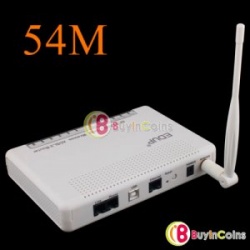 Напишу о ADSL модеме с Wi-Fi, т.к «выделенка» есть пока не у всех. Родственники проживающие в небольшом городе, обзавелись ноутбуком. Но раз есть компьютер, то нужен и интернет подумали они. Но поскольку об оптике или даже так называемой выделенке они могли только мечтать, то пришлось довольствоваться тем, что есть а был только Укртелеком и их проблемный ОГО. Но даже с Укртелом были проблемы, в наличии не было модемов. Решив, что ждать можно очень долго, да и дорогие у них модемы, а в ноутбуке еще и Wi-Fi карточка стоит, решили купить модем сами. Побродив по нашим интернет магазинам, и посмотрев на цены, решили что можно и подождать доставки модема из Китая.
Фото с сайта с ценой покупки: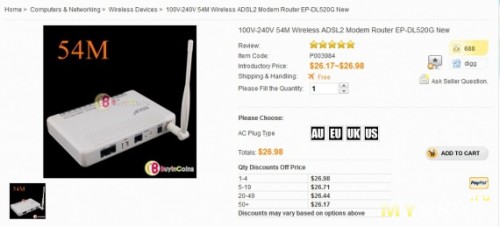 Модем приехал через 22дня, без коробки (это обычная практика Бика). Вилка питания на блоке была «китайская» плоская, так-что пришлось разориться еще и на переходничек. Диск из комплекта поставки, нужен если подключение к компьютера к модему, будет выполняться через USB. Т.е при нормальном «Lan» (желтый кабель из комплекта) подключении, диск не нужен. Подключение, простое до безобразия, но при условии, что Вы это делаете не в первые 😉 Для тех кто делает это впервые или так и не смог разобраться, я сделал пару скришотов помогающих настроить модем adsl / роутер edup ep dl520g.
1. Подключаем модем к компьютеру желтеньким кабелем RJ45.
2. настраиваем сетевую карту компьютера, прописав туда такие данные ip: 192.168.0.2 маска: 255.255.255.0 Шлюз и DNS прописать 192.168.0.1
3. Набираем в адресной строке браузера: 192.168.0.1 и нажимаем Enter Видим окошко с предложением ввести логин и пароль. Вводим логин: edup пароль: оставляем пустым.
4. В верхнем меню. выбираем закладку «Quick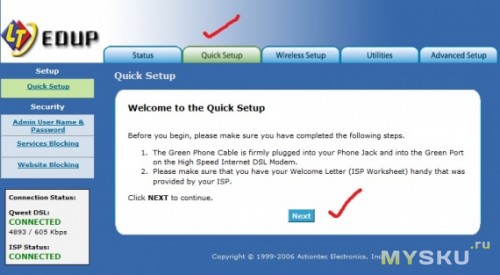 В следующем окошке, выбираем «No» и жмем «Next» И попадаем в меню настройки.
В п1. Выбираем тип подключения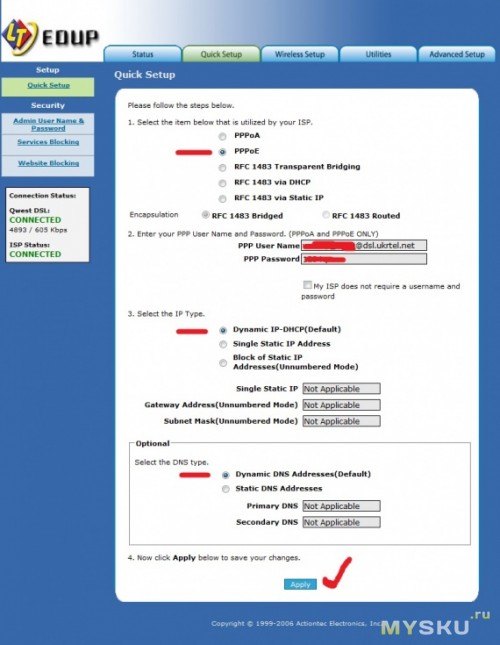 В п2. Вводим логин выданные Укртелом, например 1234@dsl.ukrtel.net и пароль: например 1234.
В п3. Dynamic IP и Dynamic DNS
В п4. Жмем «Apply»
В п5. В горизонтальном меню, вибираем " Advansed Setup" в левом вертикальном выбираем «DSL» и в полях прописываем: VPI: 1 VCI: 32 и нажимаем «Apply» (VPI и VCI могут отличатся у разных провайдеров)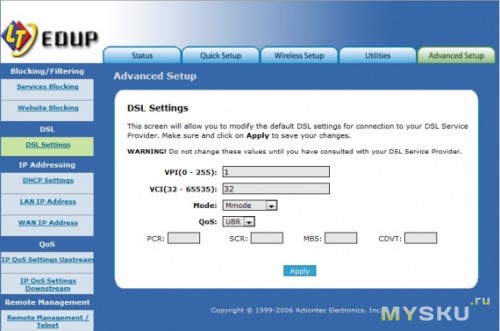 Если все сделали правильно, через минуту — две, у Вас появится интернет 🙂 Осталось настроить Wi-Fi
1.Переходим в горизонтальную вкладку «Wireless Setup»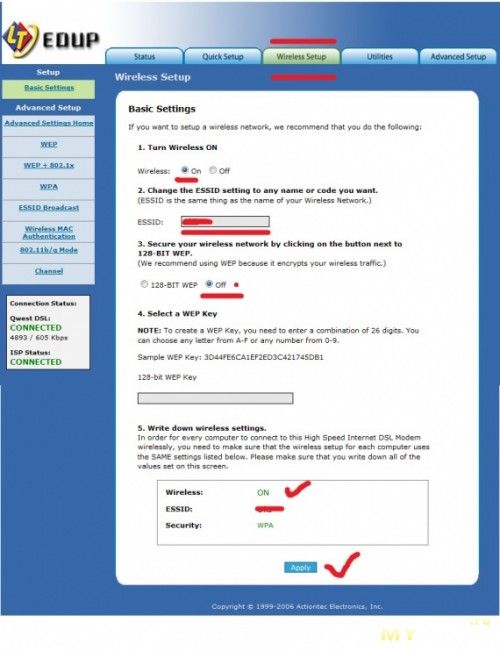 п.1 = «on»
п.2 ESSID: пишем название своего подключения (его мы будем видеть в списках доступных сетей) например: dom_wi-fi
п.3 =«of»
п.4 не трогаем.
п.5 жмем «Apply» Теперь, создадим для своего подключения пароль, ведь мы не хотим делиться интернетом со всем домом 😉 Снова выбираем в горизонтальном меню «Werless Setup» но в боковом выбираем «WPA»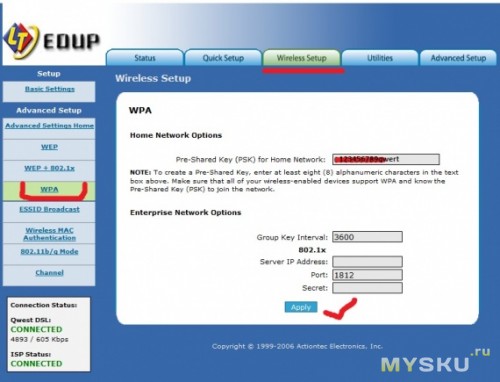 В появившемся окошке, в поле «Pre-Shared Key (PSK) for Home Network:» пишем придуманный пароль, например 12345edrftg. Пароль нужно запомнить, а еще лучше записать. На этом, настройку можно считать законченной. Приятного Вам интернет серфинга.
Пы.сы Возможно, это не самый оптимальный способ и тип шифрования Wi-Fi. Но начинающим и это обычно сложно настроить.
Я знаю, что стиль написания моих записей, несколько сумбурный — прошу с этим смирится.